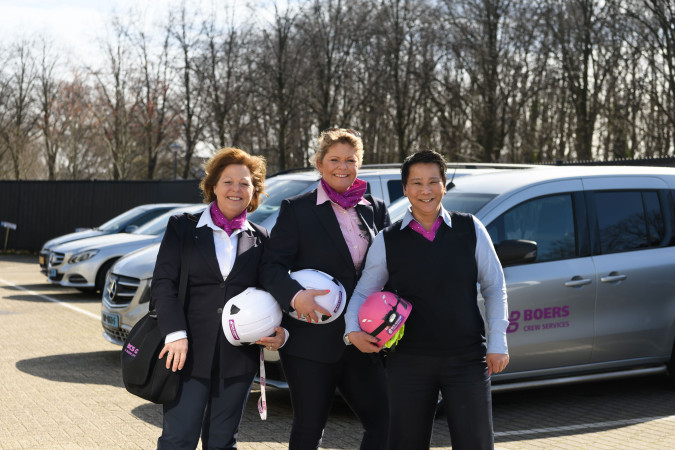 Smooth sailing with Boers Crew Services
Our services
Transport Services

Transporting crew over land is our core business. You can count on us for services like a reliable 24/7 taxi service. We have dozens of trustworthy vehicles and a large number of experienced, and professional drivers who will take your crew to their destinations safely, efficiently, and comfortably. Our fleet is modern and safe, and our experienced drivers are attentive to their passengers' comfort. This means your crew members can travel with a peace of mind.

Visa on Arrival

No time for visa applications via the embassy? We are happy to assist in securing a Visa on Arrival for the Schengen area and can even take care of the entire application process if required. With Boers Crew Services, no crew member will be sent back once they arrived at the airport. Airlines know from experience that when we get the green light from the Immigration and Naturalization Service, we will send the necessary papers directly to them.

Dutch documents

Letters of recommendation, proof of competence, and seamen's books – these are just some of the documents that must be in order when your crew sails under the Dutch flag. Arranging these documents can be a complicated, time-consuming task for those who do not submit such applications on a daily basis. However, we have extensive experience in arranging documentation, and you can safely entrust this task to us. We will arrange all the Dutch documents that allow for smooth sailing and make sure they are available to you on time. This can be done either through regular procedures or, if necessary, through an expedited service.

Letter of invitation (LOI)

One of the components that must be included in a visa application in the Schengen area is the LOI. The LOI assures the Immigration and Naturalization Service that a crew member is seeking to enter the country legitimately at the invitation of a shipping company or maritime agency, for example. We all know that, in our industry, you often need to move swiftly. Boers Crew Services ensures that you have your crew members' LOI within 24 hours, helping you to you keep the wind in your sails.

Foreign Visa

Not enough time to arrange visas for countries outside the EU? Let Boers Crew Services take care of it. As visa specialists, we are very familiar with such applications, and we ensure that the documents are always issued completely and in a timely manner. Our network and close relationships with ambassadors in different countries mean that we are rarely told 'no'. With our help, you are assured of convenience and certainty.

Medical assistance

From a regular dental appointment to assistance after the decease of a crew member, Boers Crew Services arranges appropriate medical services upon request when necessary, quickly, thoroughly, and with integrity. We understand that dealing with a problem far away from home and family can be particularly challenging, which is why we offer the best possible support to seafarers, their shipping companies and agencies. Our strengths? We are persistent and a little stubborn. Anyone who has worked with us for a while knows that no challenge is too daunting for us. If we do say that something is not possible, then we have already done everything possible to achieve it. You can count on that!

Cash to master

Paying salaries to crew members, purchasing urgent spare parts, stocking provisions or arranging other necessities for often months-long voyages at sea; these things demand financial resources. In most cases, it's cash. To ensure that everything runs smoothly and work continues as usual, we deliver euros or US dollars in cash to the captains of vessels in port seven days a week. We use fixed rates, so you know in advance exactly where you stand.

Hotel accommodation

Did the crew arrive at the airport before the vessel has berthed? Or do your crew members need to stay overnight before their flight home? A hotel will be essential. We know where to get a good night of sleep, and we have contracts with several hotel chains with fixed rates.

Tender Transport

From the first to the very last step of a seafarers journey, we believe that everything should always be well organised. That's why we take care of tender transportation to and from the vessel. We offer a high-quality service that is punctual, comfortable, and efficient, making sure that the journey is relaxing from start to finish.

Pandemic related matters

Boers Crew Services moves with the market. That's our promise, and we keep it. Our COVID-related services are a good example of this. From PCR testing and vaccinations to stays in quarantine hotels. Whatever the challenge, our experienced crew change experts can facilitate and organise it.

Preventive Medical Examination

Our innovative blood tests, conducted conveniently onboard, are designed for proactive screening, offering valuable insights into potential underlying health conditions. Crew members using the blood tests can download an app where they will be able to see their results latest, three days after sending the test off. The results will only be shared with their employer if the seafarer gives permission to do so. The testing programme has also been ISO27001-approved and the app is GDPR proof. Available in all Dutch ports.
STAY IN TOUCH
JOIN OUR NEWSLETTER